Clergy and Leadership
The Reverend Monique Stone
Monique joined Julian of Norwich as its Rector in 2018. She continues to lead the parish as it both transforms into the future through its extensive redevelopment project and as it continues to be a vibrant neighbourhood ministry that embraces people through worship, community, and the simplicity of church bazaars and pancake suppers.
Monique is a recognized ordained leader in the Diocese in the area of Strategic Planning, Sustainability, and Real Estate challenges & opportunities. She has brought to her ordained vocation vast experience as a change management and community engagement specialist in the areas of environmental & social sustainability and planning & development.
Monique has held a variety of leadership roles in the diocese including representing Ottawa at the General Synod in 2016 and 2019. At the invitation of the Primate she is currently Co-Chair of the Planning and Agenda Committee for the Council of General Synod and the Anglican Church of Canada's Strategic Plan Working Group.
Her published work includes articles in Geez Magazine, The Community, and the Anglican Communion's International Anglican Family Network Publication. She became a Byron Fellow in 2015 (an interdisciplinary sustainability leadership program out of Warren Wilson College in North Carolina) and a Re:Generate Fellow in 2016 (an ecological vocation and religious leadership program out of Wake Forest University School of Divinity).
No one, no matter their faith, background or circumstance, is ever marginalized in Reverend Monique's presence. Her goal is to foster a dynamic where people pull together to make communities and lives better.
Monique is married to Chris and they have two teenagers, Lily and Rory.
She can be reached at
The Reverend Deacon Elizabeth December-Lovell
The Reverend Deacon Elizabeth December-Lovell was ordained deacon in 2015. The ministry of a deacon is to act as a bridge from the gathered church community to the world, "to interpret to the Church the needs, concerns and hopes of the world…and to show that in serving the helpless they are serving Christ" (BCP p.543).
Elizabeth was born in Guyana, South America, and lived in Montreal and Toronto before settling in Ottawa, where she was a long-time member of the former parish of St Michael and All Angels. With her strong ties to the community and history of that parish, we are very fortunate to have her appointed in November, 2015, as part time Pastoral Associate in the new parish of Julian of Norwich.
Elizabeth's current work at Julian of Norwich is to provide and coordinate Pastoral Care and Christian Education activities. Elizabeth has academic degrees in Public Administration and Arts, as well as training in Hospital Ministry. She is now completing studies towards M. Divinity at Saint Paul University, Ottawa. Elizabeth is married to Malcolm Lovell, and they have two daughters Amanda and Vanessa. You can contact Elizabeth at or by phone at 613-723-1980.
Sue Dow – Office Administrator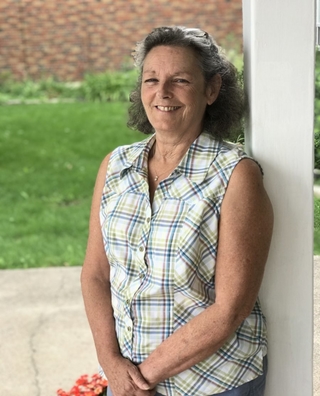 Working closely with the Clergy, the Corporation and come to think about it, with almost everybody associated with the parish, Sue is the person you want to talk to about anything that is of a non-liturgical nature (although she is involved in the liturgy and worship preparation too!) Simply put, Sue is the 'go to' person at Julian of Norwich.
Originally from the Eastern Townships, Sue also spent portions of her youth in Kingston, Jamaica before settling with her family in the west end of Montreal. She married her husband (David) in 1975 at St. Phillip's Anglican Church in that city and then they moved to Ottawa in 1979. Their son (Eryk) was born in 1982 and was followed five years later by their daughter (Tracy). Sue is now the proud Grandma of Carson, Peyton and Marley.
Before starting her () career as an Office Administrator with the Anglican Diocese of Ottawa, Sue spent five years with Dominion Textiles Quality Control Department in Montreal, chaired the Anxiety and Panic Disorder Support Group at the Royal Ottawa Hospital, worked as a teacher's assistant at W.E. Gowling Public School and was office manager for a small tech firm. God truly uses all things for the good of those who love Him. Sue has a big heart for serving any and all who require an empathetic ear. She can be reached at 613-224-7178 or by email at .
Some of our Lay Leaders:
(all Julian of Norwich parishioners are involved in the ministry of the church in some way)
Sue Davies (Rector's Warden)
Jillian Gauthier (People's Warden)
Maté Al-Kafajy (Music Director/ Organist/Pianist)
Paul Dumbrille (Licensed Lay Reader)
Laura Dallas, Robin McKay, Sue Davies: Members of the Julian of Norwich / Diocese of Ottawa Redevelopment Steering Committee (JUDO)
Chuck Belair (Past Warden)